Featured Session – Deb Knupp with Growth Play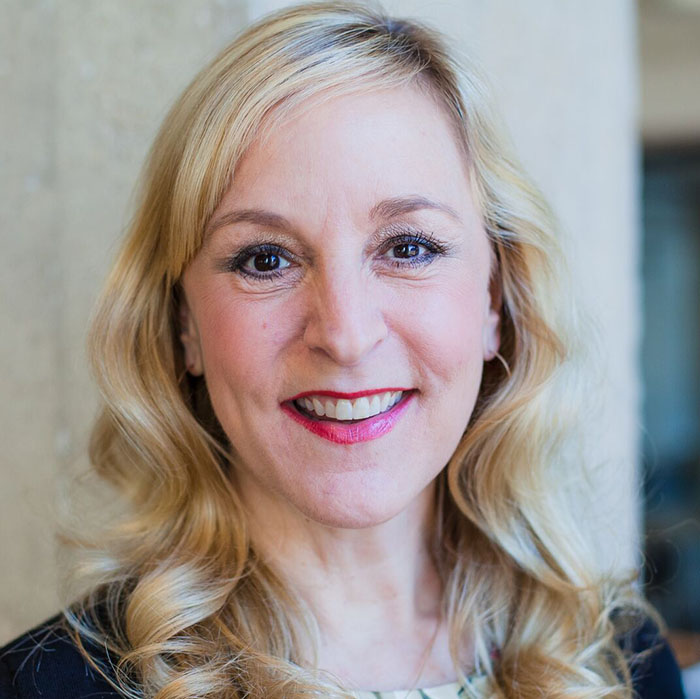 We are excited to have Deb Knupp (Growth Play) join us for CXps 2018. Deb has worked globally with CEOs, Managing Partners, and Professionals as a coach and business executive for over 28 years. She has helped these leaders align their people and business objectives to create cultures based on the principles of accountability, integrity, and authentic relationships.
Deb will be speaking at our Lunch General Session on Tuesday, May 22nd. She will share her insights on how professional services firms (lawyers, architects, engineers, etc.) can use client experience to create a work environment where the best employees "want" to work, where profitable clients "want" to buy, and where inspired leaders "want" to serve a bigger purpose in their communities.
Aligning CX, EX, and Brand: Fulfilling Your Brand Promise through an Engaged, Client-Centric Culture
What do winning professional services firms have in common? Strong, differentiated brands; loyal, raving clients; and a culture driven by passionate, engaged employees.  And this is no accident! The secret sauce lies at the intersection of customer experience (CX), employee experience (EX), and brand. These three seemingly separate functions have to work together in order to authentically deliver on your brand's promise. In this session, we'll take a closer look at the relationship between CX, EX and brand and how alignment can amplify your impact. We'll explore how each of these areas support and strengthen one another: your firm's culture plays a role in delivering an exceptional client experience; delivered by a highly engaged, client-focused workforce; and ultimately brings your brand promise to life. Attendees will walk away understanding where their firms should focus to maximize their efforts in experience design and delivery. (Tim Asimos, CPSM – circle S studio)
Becoming a Client-Centric Company: Lessons from the Trenches
The research is clear – client-centric companies are more profitable and enjoy stronger customer and employee retention. However, for many companies, becoming truly client-centric requires evolving how they think about (and do) business. It can require an evolution in how you approach your business to better focus on your clients' business needs. As with any change effort, working toward desired long-term outcomes quickly bumps against day-to-day challenges, from your current company culture and overwhelmed employees to client deadlines and that pesky need for profitability.
This session will share real-world learnings from the CEO of a professional services firm in the midst of its own client-centric journey – as well as from the broader business world – to help get you out of the gate. (Wright Sullivan – A&E Engineering)
MSA Client Experience Journey: Pilot Studies and Lessons Learned
MSA Professional Services is a full-service consulting firm with over 325 engineers, architects, planners, funding experts, surveyors, GIS experts and environmental scientists.  Our firm has committed to enhancing the client experience journey provided by all of our employees including but not limited to project managers, our marketing team, client liaisons and client service managers.  This presentation will highlight the client experience framework we are implementing through client onboarding, project management and enduring client experiences.  We will go through pilot studies with existing and new clients that have been implemented with the best practices discovered, lessons learned and next steps. (Jim Holz & Greg Crowe – MSA Professional Services)
CX Mastermind Round Table Discussions
What is a CX Mastermind? It is "A meeting of highly motivated folks who share a common goal and are looking to encourage each other and help each other improve." A combination 'Think Tank' and Mastermind, Client Savvy's Mastermind includes firm owners, business development leaders, and marketing strategists. They meet quarterly to brainstorm strategies, set action items to tackle and test, and hold each other accountable for outcomes. Their goal: Designing a variety of strategies to produce exceptional client experiences while still keeping an eye on the bottom line.
Join this round table conversation and tap into the collective intelligence of your peers. At least one member of the CX Mastermind will be at each table. Bring your ideas and your questions. Hear what they've been working on in their firms. Learn more about starting a CX Mastermind in your area (Client Savvy will be glad to help).
Implementing a Client Feedback Program
From accountants to consultants to lawyers, professional services firms understand that client experience is one of the most important components of maintaining — and growing — your business. In this session, Dan and Patricia will present a case study on how their firm built a strong CX initiative as part of their implementation of a client feedback program. They will discuss how seemingly small details that were easily integrated into the overall process made a huge difference on the success of their initiative and their clients' experience of the process. They will share best practices, communication strategies, and tips for overcoming roadblocks like strong personalities and hesitant clients. The session will also cover strategies for using the data gathered through client feedback to improve relationships with clients, address internal strengths and weaknesses, and launch client development planning. (Patricia Ellard & Dan Pulka – Pepper Hamilton, LLP)
Mastering Client Focus: One Firm's Journey
Exceptional client experiences do not simply result from what you do as a service provider; they are a byproduct of who you are. That's why when SCS Engineers launched our ambitious Client Success initiative, we knew we had to change our culture. Like most technical consulting and design firms, we are prone to be more project-centric than client-centric— despite our efforts to serve our clients well. Making the transition to a truly client-focused firm would require more than a list of action steps. In this session, we'll outline how SCS is pursuing this pivotal transformation in culture and work practices and outline the five steps of what we're calling the Client Success Journey. These steps including: change our mindset, uncover the client's real needs, deliver business value, provide great client experiences, and grow our key relationships have involved a reformation of how we thing about and conduct our business. (Eddy Smith – SCS Engineers / Mel Lester – BizEdge)
When it comes to selling — your product, your ideas, your CX goals — we often fail to convince others of the passion and commitment we feel inside. Since passion, confidence, and enthusiasm are inferred from our actions, it's crucial to SHOW these critical components and not rely on an audience to INFER from our content or implications. Many passionate speakers fall short convincing their audiences, resulting in misunderstanding, loss of buy-in, and missed opportunity.
In this fast-paced and interactive seminar, participants will learn the two principles of expressing passion and the key secret to making others BELIEVE. Alan will drive the points home by using audience participants to show how small changes can have a BIG effect on the reception of our message. (Alan Hoffler – MillsWyck Communication)
Step inside your clients' (and other stakeholders') world and experience what the "characters" are feeling. See your client relationships through their eyes and from their perspective. When you understand the current state of how your service delivery impacts your clients' experience, you can design specific changes to positively impact that experience. Come ready to participate. During this 3-hour deep dive workshop, Chandra Storrusten will guide attendees through the process of finding the opportunities for enhanced client experience. (Chandra Storrusten – Visible Value)
In this advanced CX Session, Steven will move beyond the 101 level and anecdotes about the value of CX and focus on how to build and execute modern client experience programs. The session will zero-in on how executives need to think about impacts of a firm-wide CX program and what sponsorship of a CX program really means. Learn how successful CX programs outflanked the natural pressures working against internal change to embed Client Experience into their working cultures. Explore ways to think about and build a CX governance model ensuring program success and methods to measure performance to keep it all on track. This session is an advanced, hand-on training workshop that will equip CX leaders with pragmatic, real-world resources and tools to lead their CX transformation with confidence. (Steven Keith – CX Pilots)
Between the Lines: How Linguistic Analysis Reveals What Clients Really Say
Communication. Whether it is email, text messaging, online chat programs, or message boards, conducting business online has become inevitable. It's efficient but not without its drawbacks. Without understanding the patterns, rules, and etiquette of Computer Mediated Communication (CMC), it can be easy to be misunderstood and difficult to create connection and relationship. In this session, you will learn how to interpret what your clients are 'really' saying and learn strategies to improve your online communication and build strong relationships regardless of the medium. (Kate Lucey – Client Savvy)
Build a Culture that Drives a Red-Carpet Client Experience
In today's marketplace, client experience is king. Your clients have more choices and louder voices than ever before. Providing a seamless red-carpet client experience is your competitive advantage.
However, your firm can't provide a seamless client experience unless every member of your team is on board. A Red-Carpet client experience means every team member is providing an exceptional experience for every client, at every opportunity, every single time. In other words, your client experience is only as good as your least engaged employee.
This 3-hour workshop is a hands-on, interactive experience. Through case studies, partner and group discussions, you will learn techniques you can implement in your firms to help your team deliver a consistently excellent client experience. (Donna Cutting – Red Carpet Learning Systems)
CX Playbook: The Impact of Intentional CX Behavior
Client Experience (CX) is a mindset – not an activity. Creating a differentiated client experience begins with developing a clear definition of your firm's CX Culture (and the vision of what you would like it to be). As a leader, it is your responsibility to demonstrate intentional CX behavior, ensure your team understands how to respond in different situations, and maintain a visible focus on CX as an essential metric in overall project success.
This session focuses on the iterative nature of building your firm's CX culture as you grow and adapt over time. It explores how a focus on CX throughout the entire client (and project) relationship can create delightful client experiences, increase employee satisfaction, and result in increased win rates and project profitability. In this 2-hour interactive workshop, walk through McDonald York's CX Client Journey from initial prospect meeting, through project delivery, and to the extended life of the client relationship.  (Heather Denny – McDonald York Building Company)
MASHUP –  Client Experience and Employee Experience
Some believe that clients are a firm's most valuable asset, while others argue that employees are more valuable. Did the chicken or the egg come first?
The truth is they are equally important. The journey of clients and employees have many similarities from the time they are first introduced to your organization, through the time spent together collaborating/working together, and then the parting of ways.  Think back to a positive experience you had shopping, eating at a restaurant, or staying in a hotel. An experience you wanted to share with family and friends. In each of those experiences, there was more than likely an employee who loved their job, felt successful and engaged, and motivated to provide the best possible client experience. (Kristi Weierbach – Stambaugh Ness)
Brand vs. Client Dilemma: Finding the Right Balance for Better Experience
As the lines between products, services, environments and industry categories continue to blur, leading professional services firms are looking to transcend traditional B2B boundaries in the service of creating a better experience. To compete and win, firms must balance their brand's needs with those of their clients. This includes creating more B2C-like experiences that today's professional services clients expect and demand and often means incorporating new, cross-disciplined approaches and looking to other industries for best practices.
This presentation shows how to bring together both sides of the brand-client equation to enable your firm to create unmatched client experiences where every interaction not only addresses clients' needs but also amplifies the value of the firm's brand. (Ida Cheinman – Substance151)
Proven Strategies to Successfully Launch a CX Initiative
Neumann Monson began its CX Journey six years ago. Beginning with an internal grass roots effort that led to pondering their true firm purpose (their "why"), Neumann Monson first took a path of focusing inward which in turn led them to balance those efforts with a path focusing outward. This outward shift led to client experience rising to the top of their strategic plan and embarking on a firmwide client experience initiative. By consciously developing opportunities for influence they engaged team members early in the process and generated excitement for the conversation. In this presentation Sally and Tim will share their journey, the strategies they used to gain buy-in from their team, and the results they have achieved. (Tim Schroeder, AIA & Sally Obernolte, AIA – Neumann Monson Architects)
Creating a Research-Based CX Strategy
Hinge's research on professional services firms indicates that firms that conduct frequent research realize higher growth. In this presentation Karl will take a deeper look into how this research helps firms grow and improve relationships with their clients. In addition to an exploration of the critical components of client-centered research, he will provide attendees with the practical information they need to conduct their own research including key considerations in conducting client satisfaction research and how to apply your findings to your CX Strategy. Regardless of firm size, attendees will learn strategies they can implement to begin gathering and analyzing this type of data. (Karl Feldman – Hinge Marketing)
Improving the Client Experience: Entice and Enter
Most law firms do a great job servicing existing clients, but many neglect the early phases of the client lifecycle. The salesforce of most law firms is its practicing attorneys. Like many other professional services, the dual role of selling and doing can be very challenging. While the professionals are excellent technicians most lack effective sales and large account management skills because they have never been taught. Eversheds-Sutherland's Chief Business Development and Client Service Officer, Erin Meszaros, will present a case study about how the firm paired client feedback and a deep dive study of the traits, personalities and habits of firm's top producers to identify what skills they need to look for in all potential new hires and inform their business development and client service training across the firm. (Erin Meszaros – Eversheds Sutherland, LLP)
Tactics to Execute a CX Strategy: CX Mini Clinic
Whether you are new to building a CX Strategy in your firm or you have several initiatives already in place, Steven's CX Mini Clinic is an ideal venue for exploring what might be next. There is no outline for this session. No handouts. No preconceived ideas of what will be covered except that participants will walk away with a greater understanding of how to create an implementation strategy. During this session, participants will brainstorm on a CX pilot they would like to try in their firm, vote, and then work with Steven to create an implementation strategy.  (Steven Keith – CX Pilots)
Driving Client Experience using Social Media
Discover a new way of thinking about social media by leveraging your online presence into a positive client experience. Social media is more prevalent today than it has ever been with new platforms being constantly introduced. Make sure your social resume provides you and your business with the upper hand when it comes to communicating with your clients. In this session David and Lee will dive into an overall introduction into the social platforms you should know, as well as how to position your business on each one.  (Lee Phillips & David Mantica – Fast Lane)